Bloody Point Lighthouse | Daufuskie Island
THE BLOODY POINT LIGHTHOUSE
THE HISTORY OF BLOODY POINT LIGHTHOUSE

NOT YOUR TYPICAL LIGHTHOUSE
The Bloody Point Lighthouse, located at the southern tip of Daufuskie Island, has an uncommon story rich in history and duty. It all began in 1882 when the U.S. Government paid $425 for land to place the Bloody Point Light. This included a front-range lighthouse and a rear range light tower.
The Lighthouse, designed by John Doyle who was also the first lighthouse keeper, was built on the ocean in 1883 to light the southern end of Daufuskie Island. It is a two-story building with the front light located in a small dormer window with a brass stand and wind-up clockwork to turn the light. There was also a rear range light tower. This lighthouse allowed a ship to safely enter the channel when it lined up the front-range light with the rear range light. The placement of these range lights was very important in the early days to ensure safe passage into and out of the busy port of Savannah.
The Bloody Point Lighthouse is very unique because it looks nothing like a typical lighthouse at all. In fact, the two-story structure is the same design as the keepers' houses at the Tybee Island Light with the exception of the addition of a large dormer jutting out from the roof of Bloody Point where the light was kept. At night the dormer window opened, exposing a fixed reflector lens that shone in the direction of the other positioning light, transforming this normal-looking house into a lighthouse.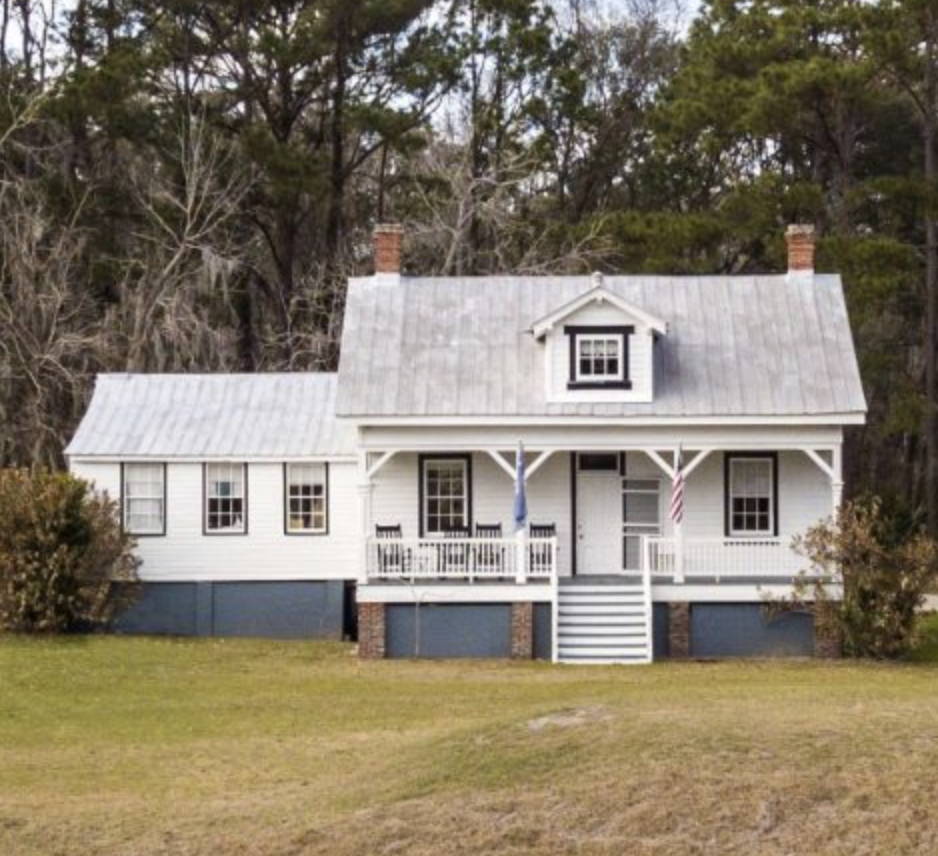 This lighthouse on Daufuskie Island was named for the Indian battles that took place there in the early 1700s. The light guided ships into the Savannah River Channel from 1883 to 1922. During its lifetime, the Bloody Point Light has had to be relocated inland several times due to erosion and the shoreline receding. In fact, a team of mules and oxen moved the lighthouse by dragging it over timbered logs to its present location to save it from erosion.
During the 1950s, the oil house was converted to a small winery by Papy Burn, the last assistant keeper, who lived there for forty years. He fermented bananas, plums, grapes, and anything he could find to make small amounts of wine for his friends. Since then the oil house has been known as "the winery" to everyone on Daufuskie Island and still bears a sign that says Silver Dew Winery today.
---
---
---
---
---